'Football Fan' App Launches Revolutionary Fan Engagement Platform
Following iterative development and refinement, 'Football Fan' has announced launch of its innovative App-based platform, designed exclusively to provide football fanatics and clubs around the globe, with an entirely new way of connecting and interacting.
'Football Fan' will connect billions of fans around the globe, opening the door to greater interactivity, collaboration, communication and personalisation than has ever been possible before. With an ever-growing football audience across every continent on the planet, 'Football Fan' provides an opportunity for unlimited connection, built around a passion for the beautiful game!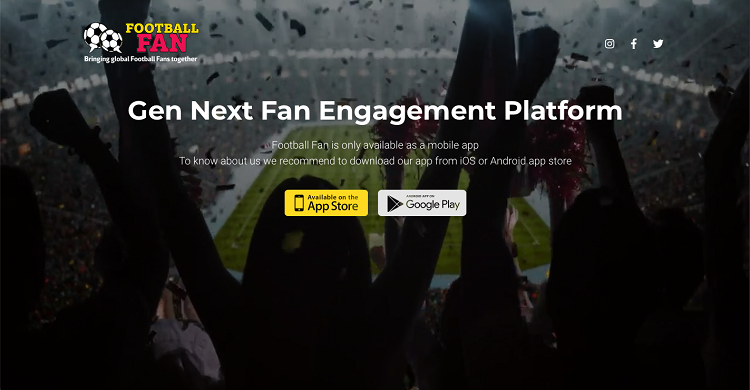 The powerful concept behind the revolutionary new app is supported by a number of key features, including personalisation and hugely immersive fan engagement, with fans creating and contributing their own football-focused content with a 'by the fans, for the fans' ethos. Users are able to connect and follow their friends or fellow fans or their beloved club to get involved in fan stories, videos, highlights, opinions, banter rooms and reactions to the latest results! The app isn't limited to the UK either – by bringing together the entire world of football, users can find and connect with other fans, anywhere around the world.
The app also boasts a sports-orientated marketplace, where fans can quickly and easily compare prices and buy their latest kit or football boots or clothing from big-brand names such as JD Sports, Sports Direct and Decathlon – straight from the comfort of the app at any time of day or night.
Another unique feature of the Football Fan app is the ability for users to collect 'FanCoins' rewards for fan activity such as inviting friends, posting stories, creating or contributing to banter rooms, or simply making purchases. In the future, FanCoins will be redeemable with partner merchants.
'Football Fan' Founder and CEO, Amit Singh Rathore commented: "In today's digital era where everything is monitored under a microscope, we wanted to build a platform that connects fans to their clubs more closely and makes fans feel valued in a personalised manner. Therefore, we built 'Football Fan' around a central concept of fans driving the platform themselves, whether they want to create their own content, create entertaining banter rooms with other fans, or simply find other fans around them for an away game – it's all there on the app."
He continued: "In addition to bringing together the planet's football fans as one community, the 'Football Fan' App will also provide a significant opportunity for clubs to meaningfully engage with their supporters allowing clubs to reach their specific target audience with announcements, important team news, club merchandise offers, ticket sales and more. This provides clubs with an opportunity to maximise multiple revenue streams, whilst reaching a pre-sold audience of millions."
"We are a sports technology company and want to empower the world of football with innovative features and have a very exciting pipeline of new app features, which both fans and clubs will embrace. We're thrilled to announce the launch of Football Fan app, the world's most comprehensive one-stop platform for bringing together football fans right across the globe."
By providing users with a fan-driven platform to interact with others around the world, Football Fan is the ultimate easy to access and enjoyable to use global community for football fanatics. 'Football Fan' is available on both iOS and Android devices for free. For more information on the innovative 'Football Fan' platform, please download the app from https://www.ifootballfan.com/app or visit the official website at https://www.ifootballfan.com