Meet Sarah Bentley, the founder of Made In Hackney
Sarah Bentley is the founder of plant-powered community cookery school Made In Hackney.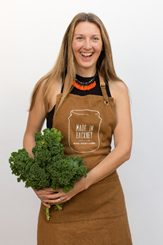 The female-led charity has delivered over 30,000 healthy, local meals to London's most vulnerable during COVID-19 so far – and even had help from The Crown actress, Olivia Colman!
Sarah conceived and launched Made In Hackney's Emergency Free Food Home Delivery Service within nine days. She did it with the help of an £80k Crowdfunder campaign and a partnership with gourmet restaurant, Angelina's, as well as her loyal volunteers who have clocked up over 1,000 hours to date.
Sarah says: "Emergency response services are often portrayed as very male heavy – police force, fire brigade, paramedics etc. The COVID-19 emergency community food response has been championed by many women (and some men of course) and the team at Made In Hackney reflect this with all paid staff on the project female and most of the volunteers as well."
Sarah is a former reggae journalist and university lecturer who had a conscious awakening 10 years ago. Following a period of learning – which included joining the blockade of an oil rig for the day and a life changing conversation with Indian activist Vandana Shiva – Sarah set up Made In Hackney in 2011. "By working on re-localising food systems you're having a positive impact on a huge range of issues – food poverty, inequality, climate change, reducing corporate control of our food, health and wellbeing – it's a hugely inspiring and rewarding area to work in."
Made In Hackney is a charity and community cookery school that's making healthy, nourishing, local food available to society's most vulnerable. All of their food is plant based, local, organic and seasonal